| | | |
| --- | --- | --- |
| Period | Title | Project Manager |
| 2007-2010 | EU HERMES Project: Developing the coaching and communication skills of driving instructors | Alles-Fuehrerschein (Austria) |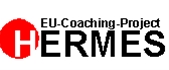 The EU HERMES project began in March 2007 and focused, over 3 years, on creating an easy-to-use training package for driving teachers on the subject of 'how to coach'.
HERMES will draw on existing experience of coaching methods in driver training and on expert advice in the greater coaching world. The end result will be a highly practical training package which new and experienced driving teachers can follow, including:
What is coaching - the principles of coaching
Why coach - aims and rationale of coaching in driver training
When – and when not - to coach: practical application in driver training
How to coach - methods to be used by the driving teachers
Scenarios for coaching: training exercises
The course documentation will include the training-of-trainers, audiovisual support, user manuals and practical coaching scenarios for learner and novice driver training. The complete package will be tested and evaluated in a pilot project and will be adapted as a result. The training is likely to be a 2 day + 1 day + 1 day format, with time in between for course participants to employ their new found skills in practice.Further information about HERMES can be obtained from info@cieca.eu.
Available documentation: